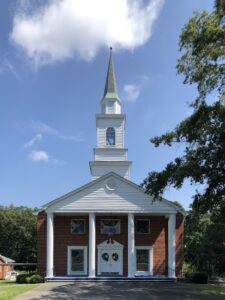 WELCOME!
Please consider this your invitation to come and be a part of Philadelphia Baptist Church. Born in 1773, our church has been a beacon of hope in our community for over 235 years. During that time, our nation has seen many changes. But, our faith and our God have remained the same.
Philadelphia Baptist Church is made up of imperfect people who struggle with problems and search for answers to the challenges of life. We believe those answers are found in God's word. We have chosen to share our joys, our hopes, and our struggles as a family. Please come and be a part of all that God is doing through us and in us at Philadelphia. May God Bless You.
Our Services
Sunday
9:30 AM Sunday School
10:30 AM Morning Worship
In-Person in the Sanctuary (Mask Optional), Livestreamed in Family Life Center (Mask Required), Livestreamed on Facebook on the Pastor's page and in our parking lot on Radio Station 107.7 FM
4:30-6:00 PM In Person AWANA Club and Youth
Wednesday
7:00 PM Mission Friends, GA's, RA's, Youth,
Adult Bible Study-In Person & Streaming
8:00 PM Choir Practice
Our New Guidelines
** As you enter the building, please sanitize your hands. Sanitizer will be provided.
** Please sit with your family. Chairs will be placed in groups of four in the Family Life Cener. If you need extra chairs for your family, please ask a deacon or usher for assistance.
** We encourage you to wear a mask. Although this is not required in the sanctuary, it would be appreciated. Masks are required in the Family Life Center. If you do not have a mask, one will be provided.
** Please keep your distance from others. Realize that not everyone will have the same level of comfort when it comes to physical contact.
** Bulletins will be available for pick-up. However, we will not have greeters or ushers to hand them to you.
** During the service, please keep your phone on "airplane" mode. This will allow us more bandwidth for better streaming for those who cannot attend.
** If you suspect that you are sick, please do not attend the service. If you are unsure and want us to check your temperature, we will have thermometers available.
** If you have an underlying condition or if you are in a group that is particularly vulnerable to this disease, please use your own discretion about coming. There is no shame in protecting yourself, and our service will continue to be streamed online.
We know that these guidelines will require some sacrifice, but they are only temporary. Hopefully, by making these adjustments now, we can hasten the time when we will be back to our regular activities. Thank you so much for your cooperation.
Pastor & Deacons
Pastor Caroll has a YouTube Channel now. Go to
youtube.com
and under search, type in Pastor Caroll Anthony then click on Subscribe. You can watch videos without subscribing; however, if you would like to subscribe to his channel, you will need a Gmail or Google Account. Have a GREAT day!
To watch or listen to Messages, please click on Media above for our Sermon Audio and Video. You may also see videos on YouTube (Pastor Caroll Anthony) and Facebook (Caroll Anthony). Facebook Live Bible Study (Caroll Anthony) on Wednesdays at 7:00 PM. Stay Well!