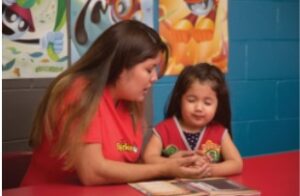 February 2021 Newsletter from Kathy Brock
What a blessing it is to serve the Lord with you. Thank you so much for how you are growing the ministry as a prayer partner or financial partner. We are richly blessed by your continued support.
Now that it's February and we are celebrating Valentine's Day, I've been thinking about some Awana Club love stories. The church I attend has a bus ministry. The van will go out every Sunday morning and get the children to bring them to church. The van takes them home after church only to bring them back later in the day for Awana Club.
For a couple years, that van brought a little girl who attended Sparks. This little girl came to Awana and quickly realized that she was loved. She fell in love with her teacher and it was obvious that her teacher was very fond of her as well. On Sunday morning, her teacher was in the choir loft where she sang her heart out for the Lord. Every Sunday that the little girl was able to attend church, she would sneak up into the choir loft and sit with her teacher. Week after week the little girl sat with her teacher in the choir loft. This is one of the sweetest examples of how a loving, caring presence in a child's life positively impacts them forever!
Thank you for your desire to impact the lives of children forever. I appreciate your continued support of our ministry.
Sincerely,
Kathy & Randy Brock
Awana Carolinas
kathyb@awana.org/843-672-8408
To donate please visit https://www.awana.org/missionary/kathy-brock/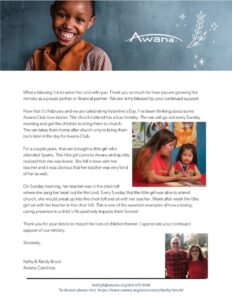 If you have any questions about Awanas, please contact:
Jill Aldridge
Awana Commander
Philadelphia Baptist Church
5709 Philadelphia Church Rd
Marshville, NC 28103
704-624-5121